Choosing The Right Stairlift
Platform Stair lifts and More!
YOUR LIFE IS UNIQUE. YOU HAVE UNIQUE NEEDS WHEN IT COMES TO YOUR HEALTH AND MAKING YOUR HOME A SAFE AND INVITING PLACE TO LIVE. AT SANSBURY MEDICAL STAIR LIFTS, WE KNOW THAT, AND THAT'S WHY WE'VE DEVELOPED A WIDE RANGE OF STAIR LIFTS AND ACCESSORIES.
Established in 1991, Sansbury Medical Stair Lifts has established itself as a professional and reliable home medical equipment supplier. With stair lifts being one of our primary products, we've made the process of picking the right stair lift easy. We begin with a non-intrusive user assessment and personal measurements. Some measurements may be taken from the stairway area to make sure the stair lift chosen is suitable for the user. We'll also go over the best side to place the controls, the ideal seatbelt for the user, and which features and accessories are needed, both for now and in the future.
Next, your authorized Handicare stair lift supplier can utilize Photosurvey to accurately survey your staircase and minimize the time it takes to design your stair lift. Cards are placed on and around the stairs and photographed, and our specialized software measures the cards and creates an identical 3-D model, which we use to design the track that perfectly fits your staircase.
Finally, we also make use of Vision, our augmented reality application. Providing a 3-D representation of how one of our stair lifts will look in your home, Vision allows you to view the system from all sides, along with a selection of seats. Installing a stair lift is a big decision, and for some people, a visual representation helps to make the decision easier. By viewing the selection with your own eyes, many questions can be answered in ways that a brochure cannot.
By removing uncertainty through a range of decision-making tools, we make it easy for you to find the platform stair lift and other products that suit your home and your needs. For more information or to get started, contact us online or by phone today.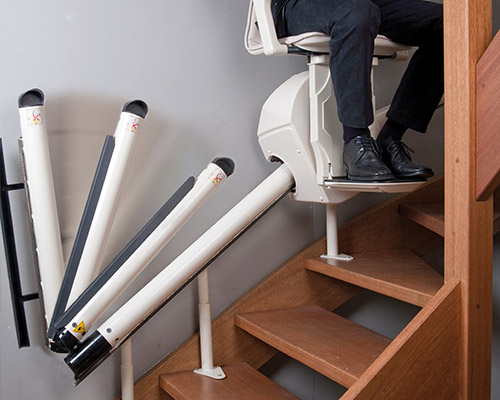 ---